All the lights you picked were made between 1900 and 1920. During this period, this type of Leaded Glass fixture was popular not only for purchase from companies like Bradley and Hubbard but also among Stained Glass Craftsmen who were doing more custom treatments of this Glass Art. So you see quite unique examples like the Pagoda fixture. Here is another very unique example that I sold about 4 months ago for use in a kitchen in Seattle Washington:
The form of both your fixture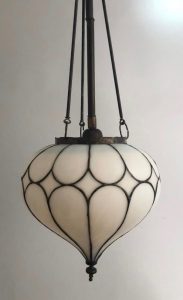 and the latter one is influenced by a trend in American architecture and furnishings called Victorian Exoticism. It was sparked in the 1870's and 1880's by the Aesthetic Movement that was a redefinition and freeing up of the role of art in Western European and American Culture. Traveling individuals who now found themselves in a more leisure class started to travel and study new environments. This created a yearning to be surrounded by things they had experienced. In the Arts and Crafts Movement there was a reaction to manufactured goods and this created more of an opening for a type of quality in furniture and accessories. You see the influence of the Japanese Architecture with details like the cantilevered roof design and its influence on Arts and Crafts Bungalows. The Pagoda shape is another detail that found its way into accessories. I have had that Bradley and Hubbard Dome that you bought around 10 times during my purchasing years. I have never had a Pagoda shade like that. In addition your Vaseline shade I bought with another one that I shipped to Fairfax Station Virginia. Never had one before in 30 years. Both the Pagoda and Vaseline are quite unique.
Pair of Vaseline Pendants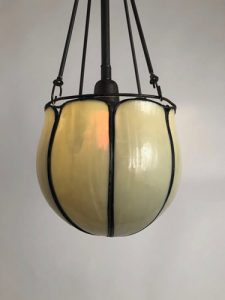 Leaded Glass Inverted Dome with Geometric Patterns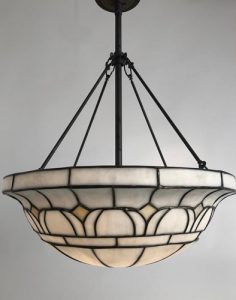 Pair Opal Slag Glass Inverted Domes