October 2020
Hi Tom,
I am inquiring about Inverted Domes for our combined kitchen/dining area.
Thanks for talking today.  Pictures of the space are below (apologies it's a mess–we are still finishing a move).  As you can see there's a spot for a main fixture (with a nice rosette) above the dining table.  There are also a few small recessed task lights over the kitchen area, but they don't provide that much light.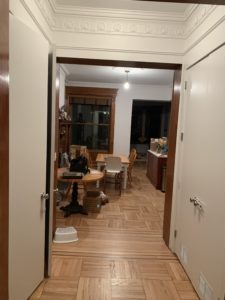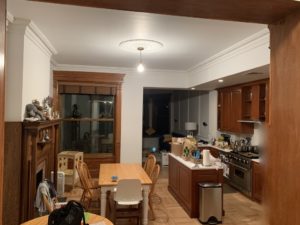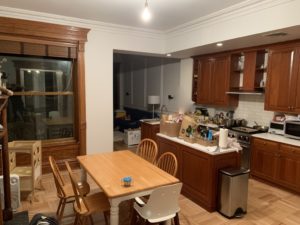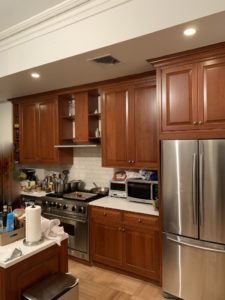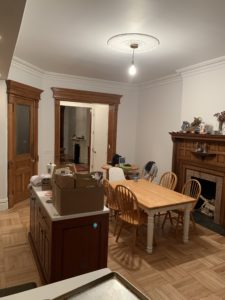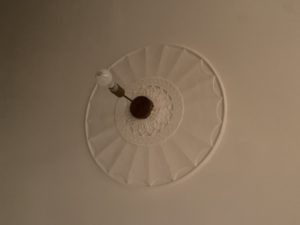 Floor to ceiling is about 125". Table is ~30" off the ground.  We would like a lot of light in the space.
We welcome your ideas on what would be a good fit.  We tend to shy away from anything especially elaborate/ornate.
Thanks,
– David
——————————
Hi David,
Thank you for your photos.
I think the Amber Domes will work very well with your natural wood details.
And I think they would throw plenty of light in the room you are showing me.
I would put the bottom of the Inverted Dome at 7.5 feet from the floor.
Because it is in the middle of the Kitchen Dining Area I would hang it like you are walking under it and lighting the whole area vs. one area or the other.
I think any of these Domes would work: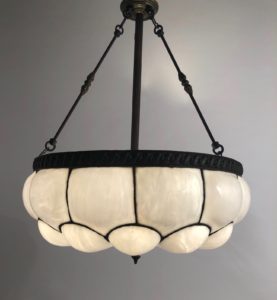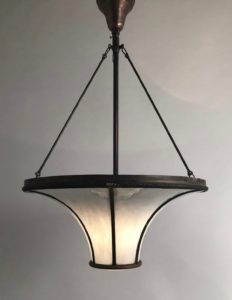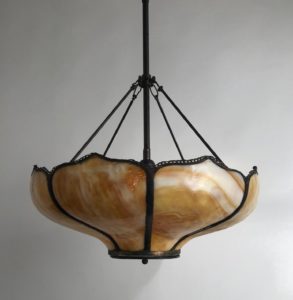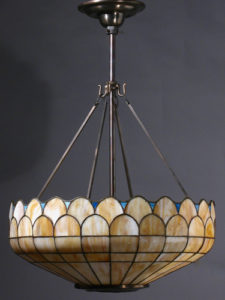 Tom
——————————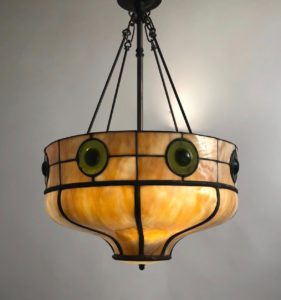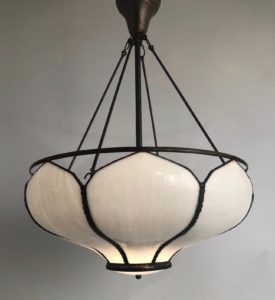 Tom
—————-
Tom –
This is very helpful–thank you.  You had mentioned a couple of options not online at the moment–do you have any of those to share?
I was also eying these, but might they be too dark?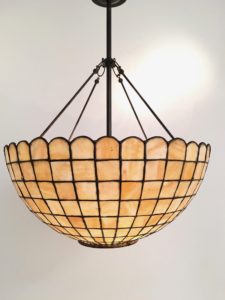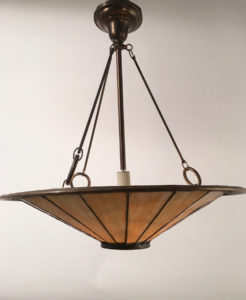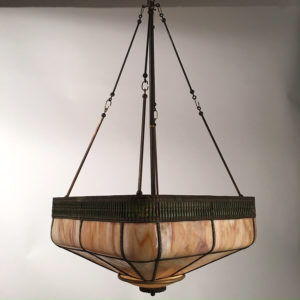 -David
——————
I like a longer up and down profile for the room you are showing me. Rather than the shade being very flat. Do not like the square one because you have too much detail which would compete. The Handel might look nice in the room though:
Because you have so much detail in the room you do not need a large Dome in diameter. 20-22 inches. I do like the amber in the room because of the wood. The Amber ones I sent are more cream color when lit and will aid in getting more illumination.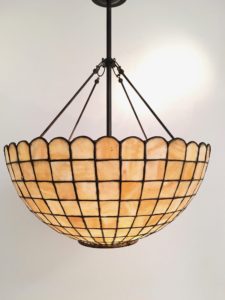 There are two in the attachments. Please let me know if you want more photos. And I completely forgot this one: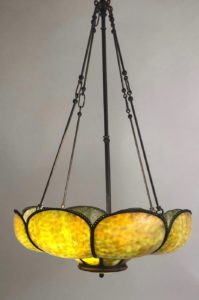 Best,
Tom
————————————-
Hi Tom,
We're very interested in 2852 (the attachment).  Can you share more details on price, size, # of bulbs that can be fitted, etc? Do you have any additional pictures including an illuminated image and one of the underside?
I'm quite fond of 3267d and 1986d, too.
What is the comparative brightness/quality of light for those?
Thanks,
– David
———————————-
David,
The overall length with suspension is 39 inches long. Inside there is a 4 light cluster so you would have 4 new porcelain E-26 sockets where you could use any bulb that fits an E 26 the most common socket.
I will send you better photos later today.
I would say the three Domes are pretty equal in brightness. Remember these were designed to spread light. If they were opaque the would not spread any light in the period because the early light bulb was not that bright. They came up with mirrors, crystal and opalescence to increase illumination because of this.
The other thing I like about the amber is that the increase in illumination just makes the amber more cream. So on a dimmer you can have many different shades of color.
Best,
Tom
———————————
Thanks Tom.  I'll look forward to the photos.
-David
———————————
Hi David,
Here are three photos you asked for. Please let me know if you have any other questions. Please see attached.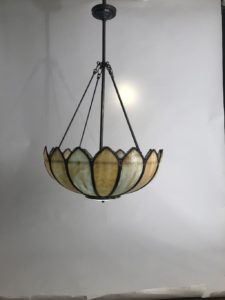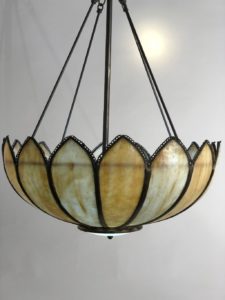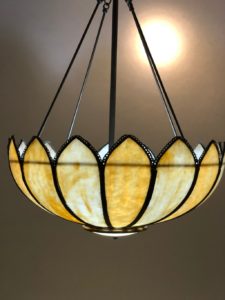 Tom
——————————-
Thank you. If not too late do you have a shot of the bottom?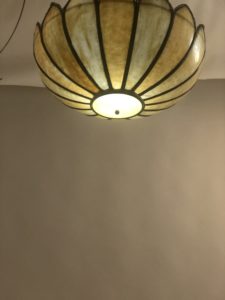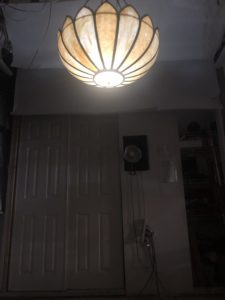 Beautiful! Can you please hold it for us and We will be in touch Saturday to finalize?
– David
—————–
David,
I have sent you an invoice from my Merchant Services you can use to pay. It came on my email for transactions.
Tom
---
Hi David :
Just saw the invoice was paid. Can ship Tues. or Weds. of this week. Will send UPS Tracking numbers. Will ship in two boxes.
Thank you,
Tom Powers
---
Tom –
Great, thanks! I believe you said it has 4 bulbs. Do you think it is possible or advisable to add another?
Also do we need to adjust the drop at all? One thing to note is that we are rather tall—I'm 6-4–and will want good clearance
Thanks
David
———————————————————————–
Hi David,
I can add a fifth bulb going down into the bowl. There are 16 panels so I will keep the horizontal bulbs at 4. The sockets are E-26 the most common socket. You can use soft white LEDs and the draw is less electric. Just get dimmable. There is really no heat issue so you can get 100 watt equivalents.
At 10 and 1/2 feet the bottom of the bowl will be around 7 feet 3 inches. I can go to 7.5 if you want. Just to give you a frame of reference the Door
Frames in your house (say closet) are probably 7 feet from the floor.
Let me know what you think.
In either case I can still ship Tues or Weds.
Best,
Tom