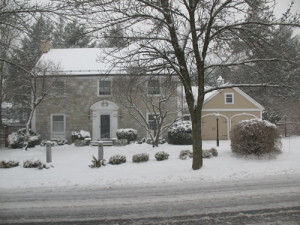 Just finished the installation of about 12 Antique light fixtures that were bought during our 35% off and free shipping sale. We sometimes have this Sale in the month of February to promote more business.
The Home was a 1930's Colonial with challenging 8 foot and under ceilings. The Owners had purchased the house about 4 years ago and a lot of the original fixtures were repeating Renovator's Supply lights in the Bath rooms, Halls and Main rooms.
The owners have a really wonderful collection of 1900's and before, Americana Advertising. This American collection provide much of the decorative detail in most of the rooms.
They also have collected some really nice period Tiffany lamps, period Panel Lamps and Floor Lamps. Our job was to add a minimal mixture of Sconces from the period and not compete with the stand out already existing detail.
 Turn of the Century Bracket End Sconces with Bronze Patina and a matching Flush Fixture finished off two of the Second Floor Bathrooms.
Deco Nickel Plated Sconces and a close-to-the-ceiling Flush fixture in the hall outside worked very well in the first floor Bath. The exceptions to the Flush Fixtures were the Kitchen Gas Harp and the Hanging Dining room Inverted Dome in the Arts and Crafts Style.
 The Husbands Office was Decorated nicely with Circa 1900 Oak Office Furniture and we were able to find a wonderful Handel Inverted Dome we could shorten to semi flush for that room.
 Flush Fixtures and a smattering of period Sconces finished off the adjacent areas. 
 It took the Electricians about 3 hours to remove the Reproductions and install the Antique Lighting.
See  Interior Photos of this 1930's Colonial Home on Our Interiors page