Good afternoon Tom.
My wife and I purchased a few chandeliers from you for our Second Empire house in Boston, and are finally getting around to finishing the process.
We have three more chandeliers to replace, two which would be relatively small, and a larger one for a living room.  All three rooms have high ceilings and medallions.  I looked at your site this weekend, and although nothing jumped at for the living room, there are three smaller ones which might work for the other two rooms.
The codes are 1359e , 2215g, and 2312g. Can we arrange a time to meet you and see these in person, and also any chandeliers not on your site which might be suitable for our living room?
Saturdays work well, but let me know how your schedule looks.
Thanks.
– Ed
————————
Hi Ed,
Thank you to you and K for your email. Sounds like you are both well. I do have the first two chandeliers. The 2312G recently sold.
Any time you would like to come in would be fine. Just let me know and will be here Saturday or any other day.
Tom
————
Tom, does Saturday at 10 at your storefront work for you?
————————
That is great Ed. Will see you then.
Best,
Tom
———
Hi Ed,
Saturday at 10:00 works fine.
Best,
Tom
————————
Aug 17, 2020
Hi Tom
I now have a conflict at 10 tomorrow morning. Are you able to come by at 11 instead?
Below is a photo of one of the two sconces we may replace. Kind of difficult to see, but it is fairly close to a wall — probably only 6 inches — so the sconces we were looking at on Saturday might not work. Unless you have shades which are a bit more narrow.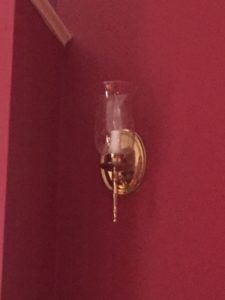 Apologies for the late request to change time of your visit.
Ed
———
Hi Ed,
See you at 11:00.
Tom
——————
Hi Ed,
Here are the URLs for the fixtures you want:
https://www.genuineantiquelighting.net/pc/CHA1/1359e/2-Light_Electric_Chandelier.html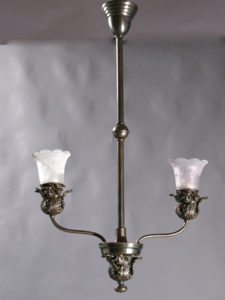 https://www.genuineantiquelighting.net/pc/CHA1/2215g/2-Light_East_lake_Gas_Chandelier.html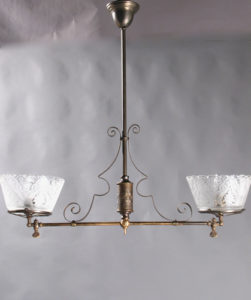 https://www.genuineantiquelighting.net/pc/SC1/2861s/Column_Sconces.html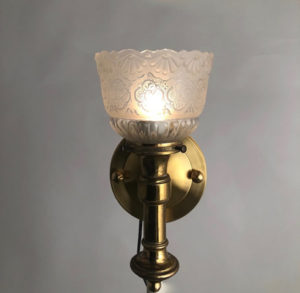 —————
Hi Ed,
I have your two fixtures ready and the shades are taken care of so they fit the fitters. Let me know when I can drop them off.
Tom
————
Tom, apologies for the delayed response
If you are able to come by tomorrow to drop them off that would be great. Let me know if that does not work though and we can coordinate another time when Kate and I are back in town.
Thanks
Ed
—————
Hi Ed,
See you at 10:00.
Tom
———————
Hi Tom.  One of the chandeliers and both sconces are installed. They are great!
We are having an issue with install of the second chandelier because there is a box of about 4 or 5 inches around the wiring in the ceiling and will not take a flush mount.  See the photos below.  Might you have a spacer, if that is the term, which will complement the chandelier..?
Colman Electric was proposing to paint one to approximate the look, but that is not what we want.
Let me know.  Thanks.
Ed
———
Hi Ed,
Glad the sconces and first fixture look good.
I will have to come and take a look at the box. And pick up the fixture so that the extension ring fits in an inconspicuous way. Also a look at the fixture that was up there might help.
Let me know when I can come Ed.
Tom